South Memphis Renewal CDC Workforce Development Division
Empower Youth Ready Workforce Innovation (EYRWI)
America's Youth are facing challenges unlike previous generations have never faced!
Opportunity Youth Are Looking to Reconnect to School or Work, Build Strong Families, and Make a Difference, but Significant Challenges Stand in the Way
The good news is that most youth out of school and out of work, whom we will call "opportunity youth" because they represent enormous untapped potential for our society, start out life with big dreams that include graduating from college. notwithstanding challenging life circumstances, including living in poverty, they remain optimistic about their futures and believe they will achieve their goals in life. they accept responsibility for their decisions, but also yearn for support along what they hope will be a road to opportunity. our society often treats them as problems to be addressed, but their voices show that they are potential to be fulfilled and can become key leaders in our society if given a chance.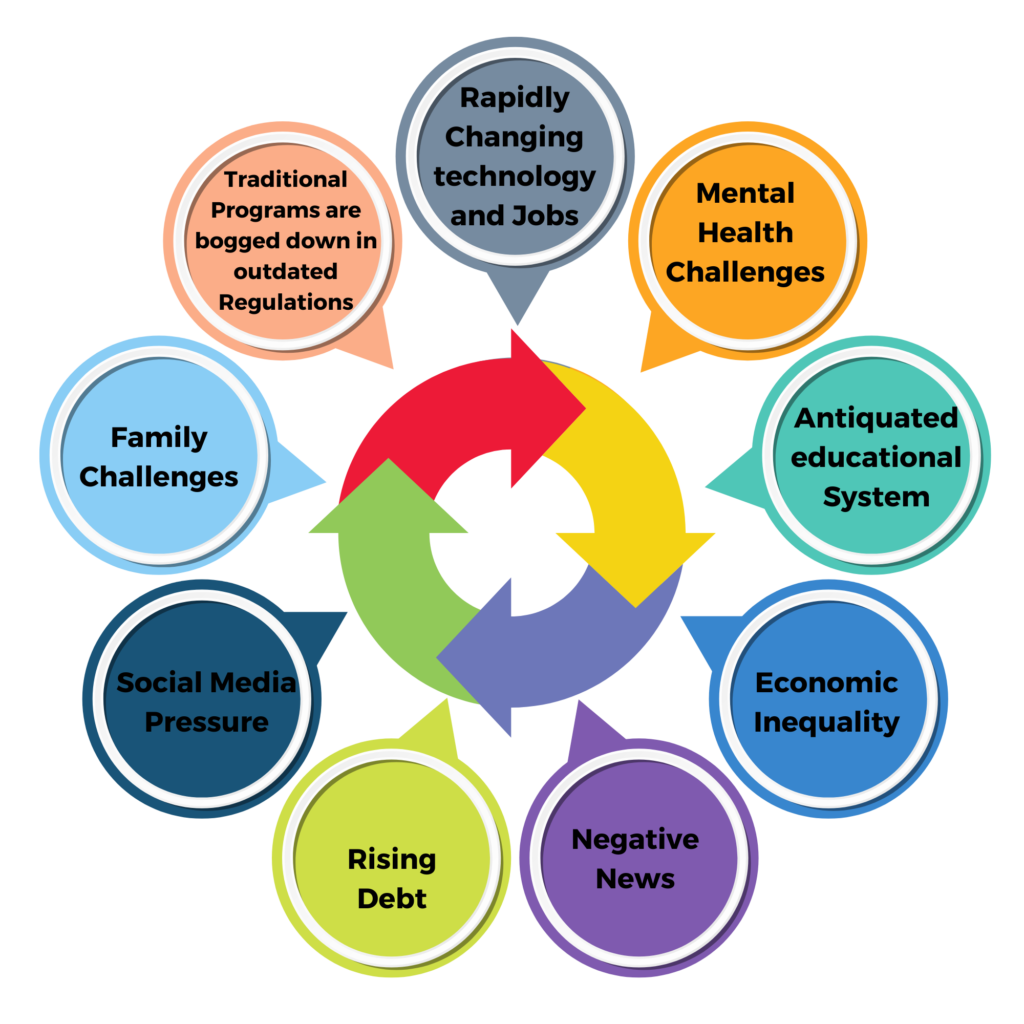 Collectively, we're failing to help them meet these challenges. We're failing to prepare youth for life in the 21st century.
There are millions of youth ages 16 to 24 who are out of school and out of Work. We have labeled them "Opportunity Youth" they cost the nation Billions of dollars every year and over their lifetimes in lost productivity and increased social services. they also represent an opportunity for the nation to tap the talents of millions of potential leaders and productive workers at a time when America's skills gap is significant.
Opportunity Youth Are Confident or Hopeful about Achieving their Goals, and accept Responsibility for Their Futures, but need additional supports despite coming from challenging circumstances, the majority of opportunity youth are very confident or hopeful that they can achieve their goals and they accept responsibility for their own futures. having clear goals and a dependable support system are strongly associated with feeling confident about the future.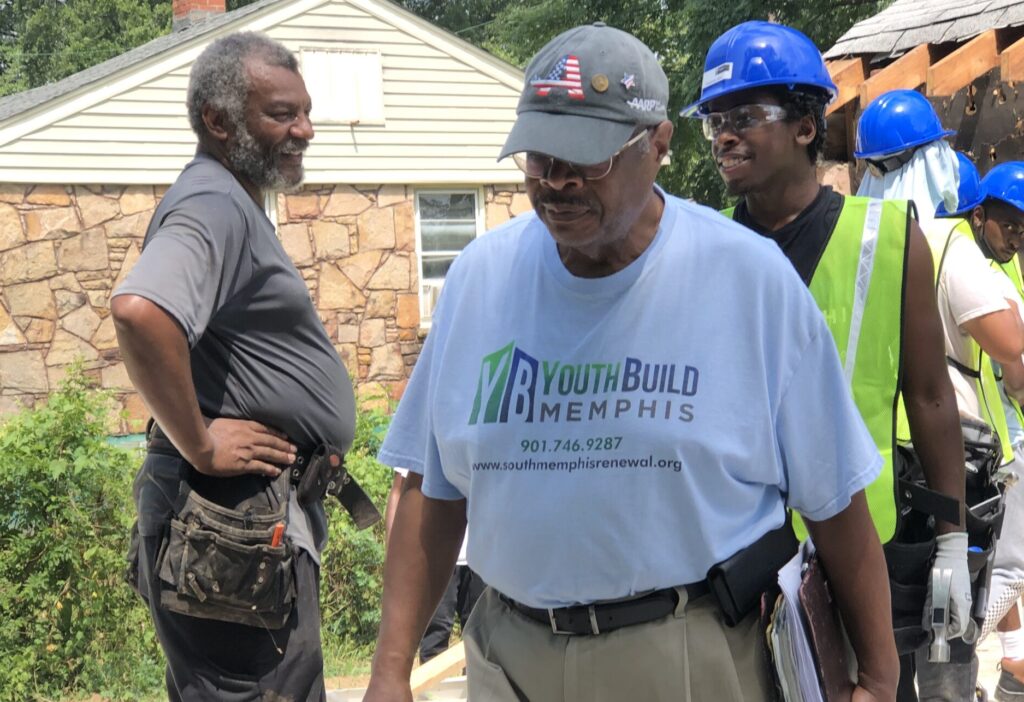 Opportunity Youth Point the Way to Reconnecting according to opportunity youth, opportunities to simultaneously earn money and attend school to build. While many surveyed express a desire to go back to school, in reality, significant barriers prevent them from achieving their goal. Opportunity road January 2012, 5 credentials are the most attractive avenues to reconnecting peer groups and mentors are also important to helping them get back on track. 
Training that allows students to earn money and to attend school at the same time ranks highest on a list of programs designed to help young people go back to school, find work, or help them with everyday problems, with 78 percent expressing interest in this type of support. Job training and apprenticeships receive the second highest marks at 70 percent, including 76 percent of men and 67 percent of women.

Opportunity youth want to work with peers and mentors. When asked who they would like to see in a new community center dedicated to helping them succeed, successful peers (79 percent), college mentors (69 percent), parents or family (67 percent) and business mentors or advocates from my community (65 percent) rank highest, suggesting that many sectors in local communities can help them reconnect.
SMRCDC recognizes the value of all youth to our communities, economy, and nation. these young people want to gain educational credentials and job training, while recognizing their need to simultaneously earn a living to support themselves and, in many cases, their families. We must do this through integrated and supportive responses that do not treat education and a job as mutually exclusive goals nor fail to recognize the individual issues and lack of support that calls the young people's attention away from the classroom. there are 30,000 Opportunity youth in Memphis and more when the five count MSA is included — about 1 in 6 of all youth 16 to 24 years old. 6 opportunity road January 2012
Course Offering based on Regional Workforce Demand
Young people (under the age of 30) make up over half of today's global population, with some projections being as high as 75% by 2030. A 2021 report estimated the youth labor force (16-24-year-olds working or looking for work) to be over 22 million in the U.S. That said, having a youth-friendly workplace would seem to be a no-brainer. Yet, youth employment rates are considerably low compared to historical standards, and the potential negative effects of this trend could also be a major motivator for employers to become more youth friendly.
The requirement for more education and training is one cause for lower employment rates. For young people who are neither in school nor working – often referred to as "Opportunity Youth" – the personal burden and the resulting strain on the local economy can both be significant. Unemployed or underemployed youth led to lower tax revenue, higher government spending, and reduced economic growth. On an individual level, longer-term effects on socioeconomic mobility are also more severe for young people who do not have stable jobs by their early twenties, including joblessness or permanently lower earnings, health risks, lower education levels, and a greater likelihood for criminal justice involvement.
SMRCDC is concentrating on matching the jobs that employers need or demand to the training that employers deem is necessary to create employees that are ready to hire in the Memphis Market. Empower Youth Ready Workforce Innovation (EYRWI) is an opportunity for our partners to carry out creative solutions that address local workforce issues. It encourages employers, community leaders, and others to lead efforts for developing regional workforce talent pools. Employers can promote credit and non-credit education and training opportunities in high-demand jobs. The EYRWI can be designed in innovative ways to help Youth achieve their training and education goals.
When it comes to businesses, there's one challenge that rises to the top; there is a significant shortage and skills gap that hinders companies' effort to expand, innovate and thrive. That's where EYRWI design is critical. WE designed our program to ensure we are training to the needs of the local workforce, dismissing traditional standards of workforce development, while providing the skills needed by the empower, we are engaged with. EYRWI will demand employees who have the disciples to learn new skill, work in a team environment, remove barriers that hinder workforce success- transportation- interpersonal skills- proper training and intensive wraparound skills that we will teach and enhance.
Best of all employees will receives the support that will build them into work ready employees when they leave our program and ensure they meet industry standards in field that include everything from construction, Medical Devices, Healthcare, IT, Manufacturing Technology. Our designs include the use of Certified Apprenticeship Program is another way that EYRWI will ensure that our regional and employees will meet their goals of employment Building on YouthBuild principles and expanding our reach of youth who need workforce skills.
Intensive mental toughness assessment, WEX – training in selected industry, Educations Training in areas lacking or gaining GEDs' when required and Community engagement, which we deemed is necessary for them to understand where they live and how to be better citizens.